In-Person Learning Options
The Fair Housing Institute
Classroom Fair Housing Training Options
The Fair Housing Institute is dedicated to providing the most thorough and comprehensive fair housing training at the best price for you and your company or organization. We realize that training is not a one-size-fits-all situation, and for that reason, we have developed multiple training solutions permitting our clients to choose which type of training best fits their needs. 
Live Fair Housing Training
The Fair Housing Institute can provide live training solutions for your company or organization to be presented by one of our expert fair housing attorneys.
This training can be customized to address problem topics in your type of housing, areas of confusion, or updates for any recent changes in fair housing law or enforcement.

Our live training focuses on engagement to encourage interaction and boost retention.

Let us know if you would like to schedule live training session. You can contact us and get more information below.
Fair Housing webinars are becoming a popular method of training for companies large and small all over the country.  Here are some of the many advantages to instructor-led webinars:
Allow companies and organizations to train an unlimited number of employees right from their office desks.
Cost-effective for companies with offices spread over a wide geographic area making classroom training a very expensive option.
Can be presented live and recorded for later viewing. 
Keeping the attention and increasing the engagement of the attendee is one of the most important aspects of any type of educational experience.  People that are more engaged will take the topic more seriously, retain more of the critical information, and apply it on the job.  Because of this, we find the best webinars are around 30-60 minutes long.  While that may not be long enough to go over the broad general fair housing training category, it is perfect for a handful of a detailed topic or problem areas that apply specifically to your company and type of housing.  
Our fair housing webinar training is also delivered by our FH attorneys/ trainers, in an individual or panel format, depending on your needs and the topics to be covered.  Whatever the specific topics your company requires, we can provide comprehensive training including research and case studies if desired.
Contact Us Today To Get Started
More Fair Housing Education Resources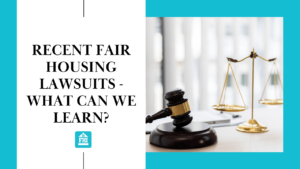 In recent years, fair housing lawsuits have become more prevalent than ever before. Landlords and property managers are facing an increasing number of claims alleging discrimination on the basis of protected classes, such as race, gender, religion, and disability. These lawsuits can have serious financial and reputational consequences, making it crucial for those in the
Read More »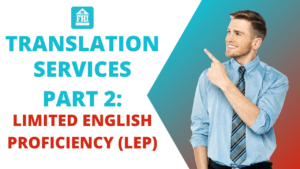 Ensuring equal access to housing for everyone is a fundamental principle of fair housing laws. However, this can be challenging for individuals with limited English proficiency (LEP), who may face language barriers when seeking housing or interacting with housing providers. In this article, we'll explore the fair housing implications of providing translation services and why
Read More »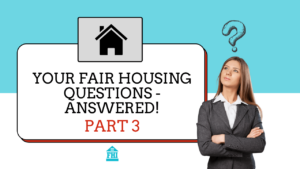 We're back with part three of Your Fair Housing Questions Answered. We again want to thank our wonderful community for continuing to share their thoughts. If you haven't already, please let us know your questions, and we will be sure to feature them in a future episode. Let's get started!
Read More »