Fair Housing Focus: Sexual and Other Protected Category Harassment
The Fair Housing Institute
Most businesses understand the importance of training employees about sexual harassment in regards to the workplace.  But did you know it is just as impotant to train them about sexual harassment as it applies to fair housing?  Being prepared to properly address issues involving harassment is the responsibility of every employee in the housing industry. Even small misunderstandings can result in lost time, money, and cause people to lose their jobs. This course will help your team understand how policies and best practices can make their jobs easier while also protecting your residents from illegal harassment.  
Some of the topics covered:
Different types of harassment
Processing claims
 Words and phrases to avoid
Lease violations
Incident investigation and resolutions
Scooter policies
Harassment between residents
       And more!
Protected Category Harassment Training
In this supplemental course, we examine how to navigate this sensitive topic.  We also provide plenty of examples and best practices that your team can continue to use for years.  At the end, you will take a brief exam and earn a certificate of completion.
Available Languages – English
$39.00/Course
Course Time: 25 minutes
10 Question Certification Exam
Certificate of Completion
Select How You Would Like To Purchase Your Courses Below
Introduction
Sexual and Other Protected Category Harassment
Introduction

Sexual harassment

Quid pro quo vs. hostile environment

Processing claims

Avoiding claims

Appropriate vs. inappropriate comments

Multiple examples

Example review

Best practices

Lease violations

Mitigating negative outcomes

Sexual harassment scenario 

Scenario response

Steps involved in resolving an incident

Management's response

Any incident can cause an issue

Other protected category harassment

Summary

Exam
©This course and its outline are owned by The Fair Housing Institute, Inc. and cannot
be reproduced or used in any manner without the express consent of its owner.
Complimentary Housing Education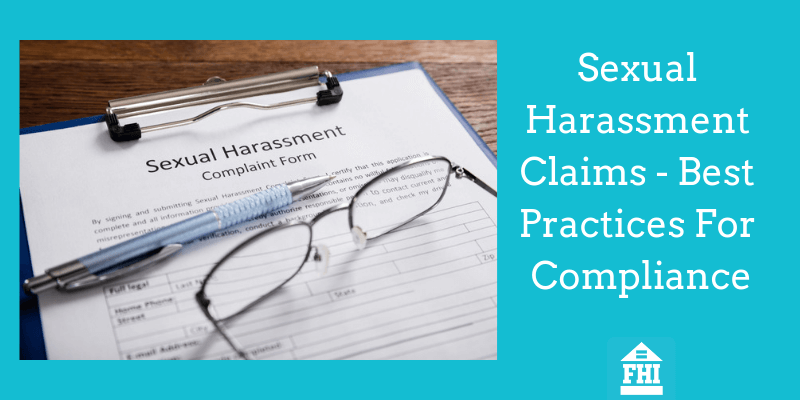 Sexual Harassment Allegations Sexual harassment allegations are a serious matter. The Department of Justice and HUD are working together in a task force to investigate and prosecute cases of sexual harassment in housing. As serious (and expensive) as allegations of sexual harassment are for employers, housing providers have even wider concerns since housing providers need
Read More »