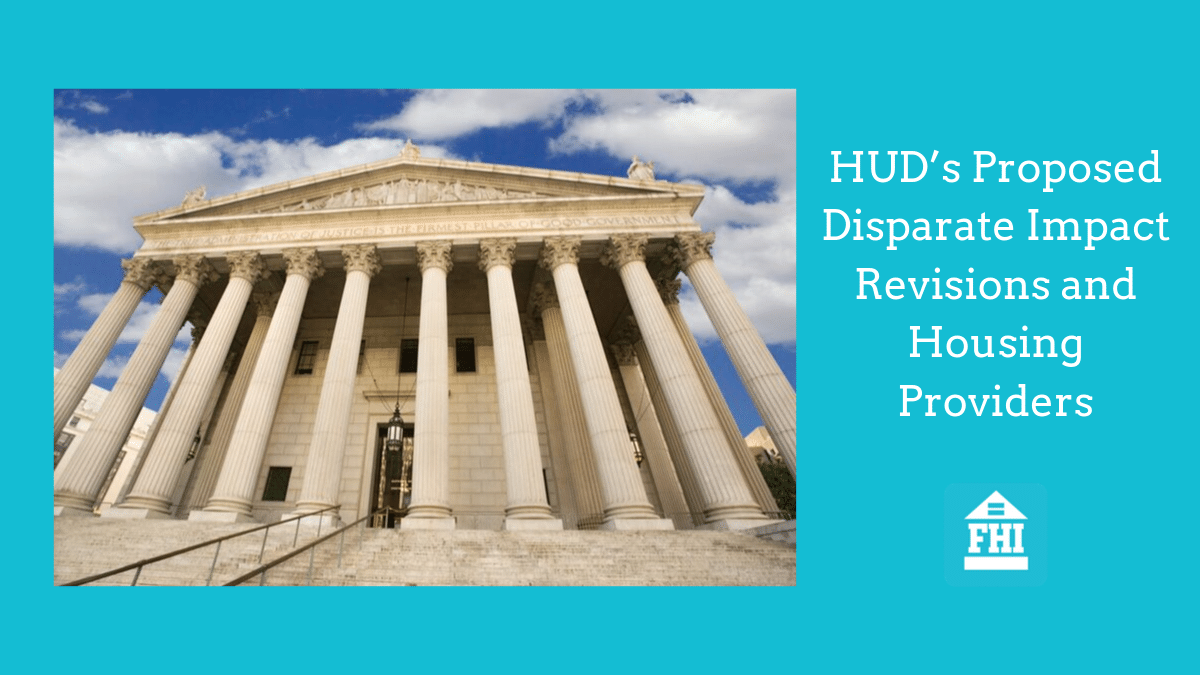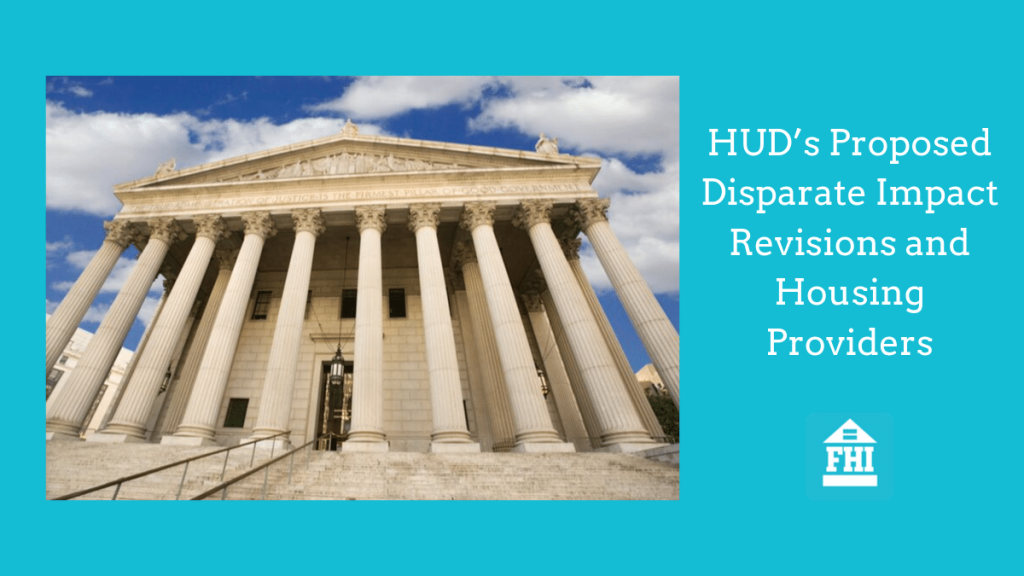 Disparate Impact revisions were recently published. How will these revisions have an impact on housing providers? The revisions reflect the Supreme Court ruling in Texas Department of Housing and Community Affairs v Inclusive Communities Project, Inc.
Disparate Impact Revisions Proposed by HUD
You can review the document at the Federal Register website. It's entitled: HUD's Implementation of the Fair Housing Act's Disparate Impact Standard. HUD regulations often refer to this topic as "discriminatory effects," but this term is interchangeable with the more common term, disparate impact. Should the revisions to HUD's regulations be adopted, they will not change the fact that the disparate impact theory of proof can be used to make a claim that a housing provider is violating the Fair Housing Act. This would happen by adopting and enforcing a neutral policy that has a negative impact (or effect) on one or more of the protected categories.
For a claim to be successful, a plaintiff need not prove that the housing provider had any intent to discriminate when it adopted the policy. Historically, disparate impact has been used to challenge the fair housing compliance of institutional entities such as mortgage and insurance companies. The regulations' references to algorithms and state insurance laws are because of the past attention these cases have received. More recently, housing providers have been challenged under the disparate impact theory primarily for policies related to criminal screening and occupancy standards.
For a claim to be successful, a plaintiff need not prove that the housing provider had any intent to discriminate when it adopted the policy."
This blog article uses criminal screening policies as an example of how the regulations would apply to a claim of disparate impact.
Criminal Screening Policies and Disparate Impact
The purpose of the regulatory revisions is to better clarify the burden on plaintiffs to make a disparate impact claim and to better describe the methods a defendant can use to defend and rebut such claims. The original disparate impact regulations were promulgated in 2013, prior to the Supreme Court's decision in Texas Dept. of Housing v. Inclusive Communities Project. There were several provisions in HUD's regulations that were not entirely in sync with the Supreme Court's decision. The proposed revisions explain how to make a claim of disparate impact, but, in this regard, do not make a significant improvement to the original regulations. The proposed regulations significantly improve the original regulations, however, by clarifying the elements necessary to successfully defend against a claim of disparate impact.
HUD's Office of General Counsel published a Notice in 2016 in which housing providers were warned against adopting generalized criminal history screening policies, as doing so may result in an unjustified discriminatory impact against African Americans. A review of the proposed disparate impact revisions (regulations) suggests that this would not make a substantial difference to the content of the Notice. In other words, housing providers should continue to heed the warnings in this Notice.
Theoretical Disparate Impact Scenario
As a way of explaining the legal analysis of a disparate impact case as described in the proposed regulations, let's use a theoretical challenge against a multifamily housing community, Happy Village Apartments. In our scenario, an African American applicant, Mr. Charles, claims his application to Happy Village was denied due to his criminal history. He further claims that the criminal history policy adopted by Happy Village has a disparate impact against African Americans. The proposed disparate impact regulations require that to be able to make a claim and survive a summary judgment motion, Mr. Charles' original claim must state facts plausibly alleging each of the following five elements:
That the criminal history policy is arbitrary, artificial, and unnecessary to achieve a valid interest or legitimate objectives such as a practical business, profit, policy consideration, or requirement of law;
That there is a robust causal link between the criminal history policy and the fact that African Americans have been and will be denied housing at a more adverse rate than White applicants;
That the alleged disparity caused by the criminal history policy has an adverse effect on Mr. Charles and other African American applicants;
That the alleged disparity or difference in the rejection rate caused by the criminal history policy is significant; and
That there is a direct link between this statistically negative impact and why Mr. Charles' was denied housing by Happy Village Apartments.
If Happy Village successfully challenges Mr. Charles' statistical analysis, showing that the disparity is not significant, or that if a disparity exists, it is not the challenged policy that caused it, Happy Village will win this case. If, however, Mr. Charles is able to show all of these elements in his initial claim, the case will move on to the next stage of the analysis. The burden now shifts to Happy Village who can argue that Happy Village needs its criminal history policy because the policy is necessary to achieve one or more substantial, legitimate, nondiscriminatory interests.
Evidence for the Defense
In our example, Happy Village must show evidence that its criminal history screening policy protects the safety and property interests of the company, including its staff and residents, by not housing applicants with the criminal histories prohibited by its policy. It will need to link the policy to a reasonable belief that applicants with those histories are more likely than other applicants to participate in criminal activity in and around its premises.
The basic defense is that even if the policy has a discriminatory effect, the policy is necessary for Happy Village's business success, and is, therefore, justifiable. Another argument Happy Village could use in its defense is that unless aggressive criminal screening is conducted, Happy Village's reputation will be harmed, resulting in its residents being less likely to lease and remain living at Happy Village. These points could be made through evidence from testimony and marketing data.
If Happy Village makes its defense successfully, thereby satisfying its burden of proof, there is yet a third step in the analysis. Now Mr. Charles has one more chance to be successful in his disparate impact challenge against Happy Village by showing that Happy Village's interests in providing security to its property's staff and residents by applying its criminal history screening policy could be achieved by adopting a less stringent criminal history policy that will have a much less discriminatory effect.

Blanket Criminal History Screening Policy
In our example, if Happy Village has a blanket criminal screening policy that basically rejects all applicants who have had any conviction at any time in their past, Mr. Charles could likely demonstrate that this policy keeps out many applicants who are not dangerous. If Mr. Charles' criminal records show that he was convicted of assault that occurred in a bar fight fifteen years ago, and he has been out of prison and crime-free for more than ten years, it is probably not reasonable to deny him housing because the policy considers him "dangerous."
Mr. Charles could successfully challenge the policy as being overly broad by unnecessarily denying housing to many people who would not pose a danger to the property. Mr. Charles could suggest that to achieve its interests, Happy Village should apply a policy that denies housing to applicants convicted of violent crimes within the past seven years. To support Mr. Charles' alternative policy, by using statistics, he needs to show that many fewer African Americans would be denied housing than the broad, blanket policy that resulted in his denial. He could also support his policy with statistics that show the recidivism rate of convicted felons levels off after about seven years post-release from prison so that the rate is no higher after that point than that for persons who have no criminal record.

Plantiffs will have a much more difficult job challenging a tailored, thoughtful criminal history screening policy."
If, however, Happy Village already has a criminal history screening policy that differentiates the severity of various crimes with decreasing look-back periods, it will be much more difficult for Mr. Charles to challenge the policy as unnecessarily broad. If Happy Village's policy rejects applicants who were convicted of a violent felony within the past ten years and then lists other crimes with a five year look-back period and several more with three years, on its face the policy appears more reasonable and less exclusionary. If Mr. Charles' conviction was eight years ago, and he is denied under this policy, although he could challenge it, he will have a much more difficult time satisfying his last burden of proof.
The disparate impact revisions make it clear just how difficult it is to prove a disparate impact case, and will likely discourage plaintiffs like Mr. Charles (and their attorneys), who will have a much more difficult job challenging a tailored, thoughtful criminal history screening policy.

Value of Proposed HUD Regulations
We won't know for many months whether HUD will finalize the disparate impact regulations as proposed. The reality is that these cases are already burdensome and challenging for plaintiffs, and the proposed regulations don't add significantly to their burden.
The overall value of the new proposed regulations should encourage housing providers and other defendants because they highlight the difficulty in successfully challenging a policy as having an unjustified discriminatory impact, and emphasize that defendants have many available methods to defend and rebut such a claim.
Housing providers should understand that while the changes to HUD regulations may somewhat benefit housing providers, it continues to be critical that they adopt reasonable, thoughtful policies that are frequently reviewed and revised as necessary to keep up with the latest fair housing considerations.

Citations for the Supreme Court Case and the HUD Notice referenced:
Texas Dep't of Hous. & Cmty. Affairs v. Inclusive Cmtys. Project, Inc., 576 U.S. ___, 135 S. Ct. 2507 (2015).
Office of General Counsel Guidance on
Application of Fair Housing Act Standards to the Use of Criminal Records by
Providers of Housing and Real Estate-Related Transactions
Before you go be sure to check out our available Fair Housing online courses.