The New Basics of Fair Housing
The Fair Housing Institute
Our premier course provides an in-depth look at many different fair housing laws and best practices including state and local protected categories, reasonable accommodations and modifications, prohibited activities, assistance animals, sexual harassment, criminal screening, occupancy policies, and much more.  This is the perfect course for new hires and veterans at all levels and positions of the housing industry! 
Some of the topics covered:
Fair housing road map of the rental process
Marketing
Meeting, greeting, and taking prospects on tours
Screening
Process lease violations and terminations
Familial status issues
Disability rights
Reasonable accommodations and modifications
Assistance animals 
        And more!
Online Basics of Fair Housing Training
With the marked increase in interpretation and enforcement of existing fair housing statutes by the private and not-for-profit sectors, progressive management companies are focused on proactively mitigating potential litigation through "best of breed" training. This attorney-authored course is available in English and Spanish language and provides a comprehensive training experience that property management companies need.
Available Languages – English & Spanish
$99.00/Course
Course Time: 3.5 Hours
50 Question Certification Exam
Certificate of Completion
TDHCA Approved
Select How You Would Like To Purchase Your Courses Below
FAIR HOUSING ROAD MAP OF THE RENTAL PROCESS
Introduction
● History of FHA
● Protected categories
● Explanation of each protected category
● Map of state and local protected categories and unique provisions
● Introduction of Fair Housing Road Map
● Introduction to Murphy Hill Townhouses and Dodge Falls Lofts
Marketing
● Description of marketing activities
● Example with use of words in an advertisement
● Problematic words phrases
● Website accessibility
● Marketing-related topics
● HUD and RD's fair housing poster
● Use of fair housing logo
Meeting, greeting, and taking prospects on tours
● Testers
● What kind of people live here
● Consistency in treatment
Showing and offering housing
● Steering
● Order of showing or assigning vacant units
● Documenting preferences of prospects
● Examples of making an availability error
● Application
● Screening criteria
● Use of third-party screening companies
● Criminal history screening issues
Terms of the lease
● Consistency in lease terms
● Negotiating rental amounts
Provision of services and amenities
● Golden Rules of customer service
●Fair housing maintenance issues
● Sexual harassment
● Rules pertaining to use of amenities
Property rules and policies
● Example of consistent application of rules
● Need to make possible exceptions
Lease violations and terminations
● Consistent enforcement
● New for thorough documentation
● Retaliation renewal
●Potential for appearance of discrimination
● Need for applying a consistent renewal policy that can be documented
Review of Fair Housing Road Map of the rental process
FAMILIAL STATUS AND DISABILITY
Familial status issues
● Rules pertaining to children
● Curfews
● Occupancy rules
● Considerations beyond "two persons per bedroom"
● Pregnant women
● Housing for older persons
Disability rights
● Discrimination
○ Definitions
○ Limitations
● Reasonable accommodations
○ Processing requests
○ Verification
○ Challenges to housing providers due to limitations to reasonable accommodation process
○ Steps in process
○ Hearing and clarifying a request
○ Avoid discouraging or instantly denying a request
○ Timely process requests
○ Forms
○ Who can be a verifier?
○ Examples of requests
○ Assistance animals
○ Assigned parking
○ Transfers
○ Use of chemicals
○ Reasonable modifications
○ Requirements
○ Who pays?
○ Unreasonable requests
● Accessibility
○ Fair Housing Act
○ UFAS
○ ADAAG
○ State building codes
Review of familial status and disability
FINAL EXAM
©This course and its outline are owned by The Fair Housing Institute, Inc. and
cannot be reproduced or used in any manner without the express consent of its
owner.
Complimentary Housing Education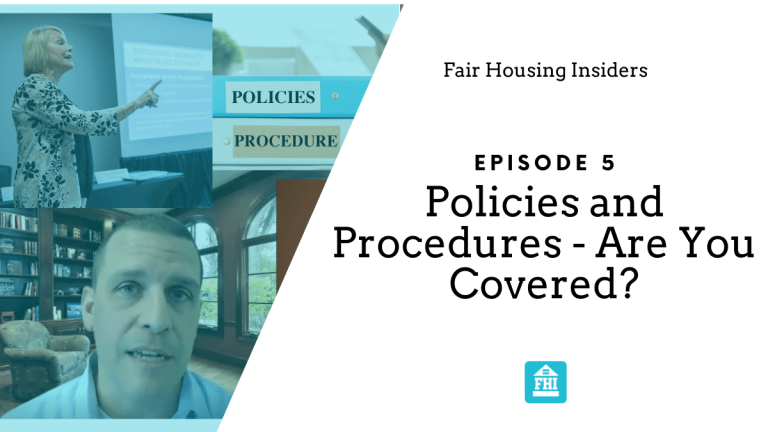 Fair Housing policies and procedures are absolutely essential no matter how many employees or units your property management company oversees. In this episode of The Fair Housing Insiders, we covered the following topics:
Read More »