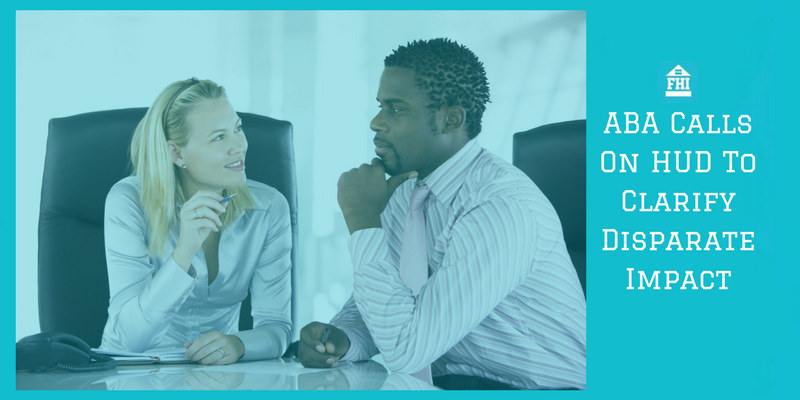 Disparate Impact Clarification
Keeping up with Fair Housing laws can be a full time job. Laws are added, changed, and tweaked regularly. Recently, the American Bankers Association (ABA) and state bankers associations in all 50 states responded to HUD's request for suggestions of outdated regulations by calling for clarification of the disparate impact rule. Here is an excerpt from the article in the ABA Banking Journal that recently was published that highlights this disparate impact clarification:
Responding to a request by the Department of Housing and Urban Development for suggestions of outdated or ineffective regulations, the American Bankers Association and state bankers associations in all 50 states today called for changes to HUD's rule implementing the Fair Housing Act discriminatory effects standard, calling the rule "outdated and legally wrong."
The groups noted that the rule stands in direct conflict with a Supreme Court decision in Texas Department of Housing and Community Affairs v. Inclusive Communities Project, which held that "disparate impact" analysis to demonstrate discrimination claims is recognized under the Fair Housing Act, but included key limitations that placed the burden of proof in disparate impact cases with the plaintiffs. In addition, the groups pointed out that the rule provides no real-world guidance to promote compliance with the Fair Housing Act.
"The direct conflict between the rule and Inclusive Communities deprives regulated entities of certainty as to how disparate impact will be defined and applied under the Fair Housing Act," the groups wrote. "A rule that creates, rather than eliminates, confusion undermines its own purpose and is entirely ineffective."
ABA and the state associations have long called on the regulatory agencies to include the Supreme Court's reasoning in formal guidance and exam procedures, and noted in the letter that they are willing to collaborate with HUD to develop a rule consistent with the legal precedent set by the Inclusive Communities decision.
The ABA called the disparate impact rule "outdated and legally wrong." Perhaps you've had to review and change your policies and procedures to conform with the disparate impact rule. What are your thoughts on this disparate impact clarification? Do you agree with the ABA's conclusion?
Disparate Impact Definition
According to Wikipedia, disparate impact in United States labor law refers to practices in employment, housing, and other areas that adversely affect one group of people of a protected characteristic more than another, even though rules applied by employers or landlords are formally neutral. Although the protected classes vary by statute, most federal civil rights laws protect based on race, color, religion, national origin, and sex as protected traits, and some laws include disability status and other traits as well.
Disparate impact is just one of many compliance segments that property management professionals need to keep in tune with. Thank you in advance for your thoughts and for sharing this with your network.
Fair housing has many segments that are covered in our online fair housing course. Reach out to us for more details.
If you enjoyed this article you may also enjoy this post: Educate Maintenance Staff About Reasonable Modification Requests