It's essential to have regular fair housing training. But throughout your career, you'll run into fair housing topics that go beyond the basics. Here are the top five "beyond basics" fair housing topics you need to be aware of.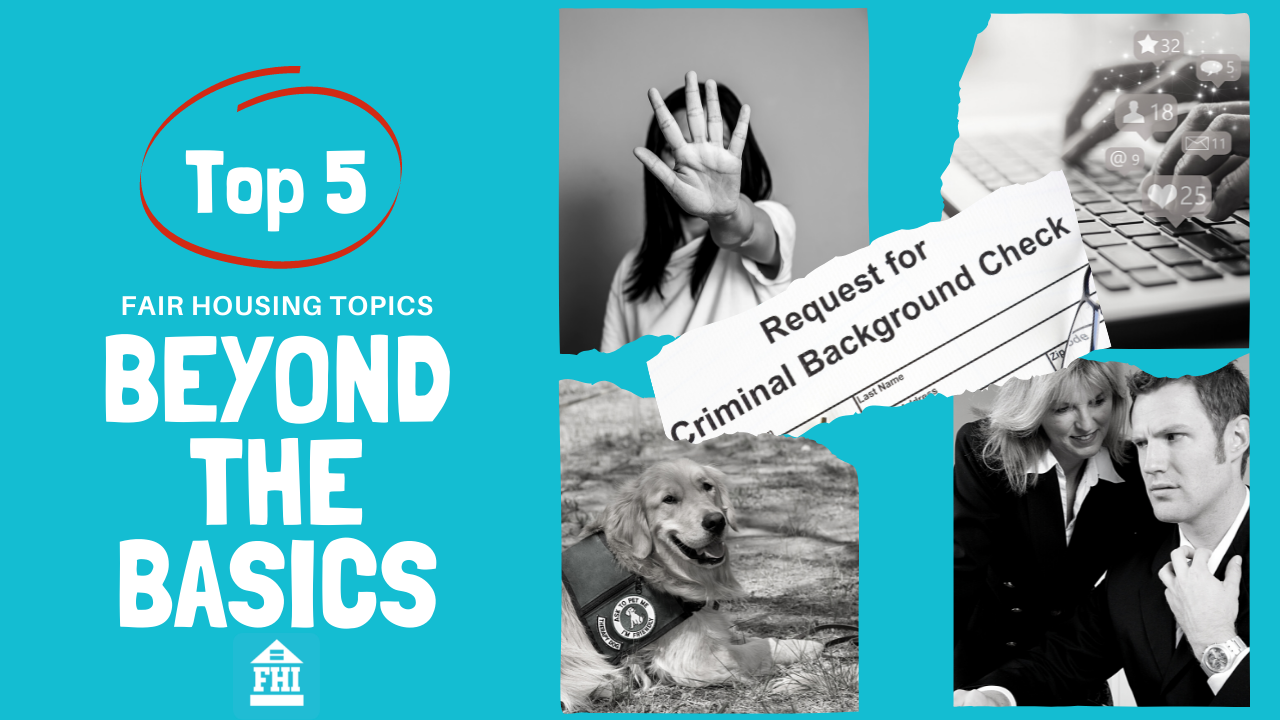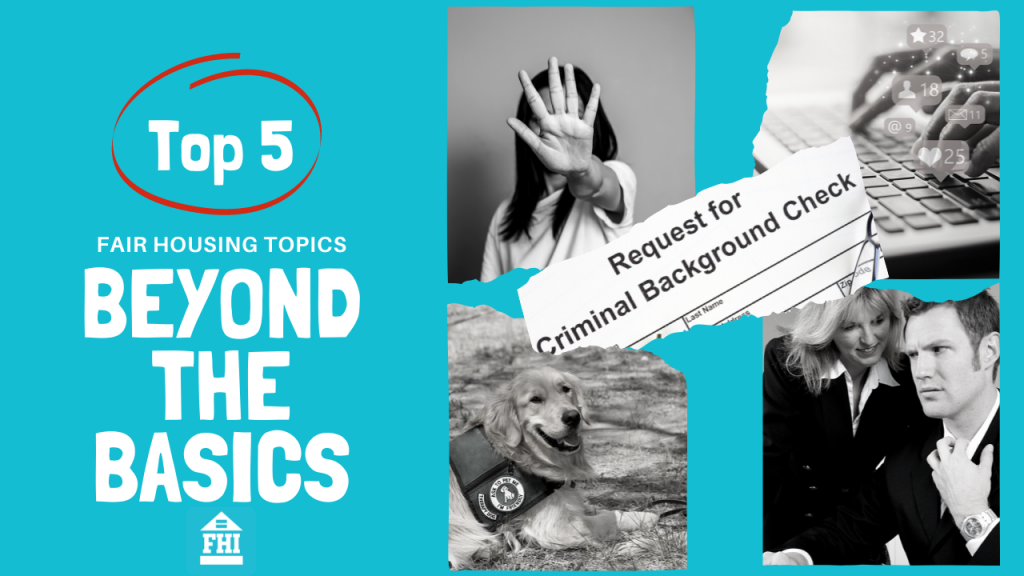 Estimated reading time: 5 minutes
We have received so much feedback regarding the different challenges that properties face on a daily basis. Some of the topics truly highlight the need for ongoing fair housing training. Every employee receives foundational training at the beginning of their career, but much more is needed.
First of all, fair housing is a broad and complicated topic, and there is a lot of information that needs to be remembered. We recommend that fair housing training should take place a minimum of every two years but ideally annually. So many different scenarios can arise and not knowing what to do can end up severely costing you.
We have put together the top five fair housing topics that we have received the most feedback on that clearly require additional training.
Domestic Violence
First of all, when we discuss domestic violence, many will immediately think of The Violence Against Women Act. Remember, though, that the laws that protect victims of domestic violence apply to all types of housing providers. No one is exempt.
Consider the following scenarios and ask yourself how you or your company would handle them:
You have had an incidence of public domestic abuse on your property. Do you evict them? Can you evict them?
A prospect has just disclosed on a rental application that they have been evicted in the past due to being a victim of domestic violence. How do you proceed?
As you can see, these are both very complicated situations that require flexibility and delicacy. Basic training will not cover this and leaves room for mistakes to happen.
Marketing
Marketing was one of the most popular posts of all time on our site. You do not need to relegate yourself to only showing pictures of the community pool because you are unsure what is okay. To get started, ask yourself the following questions:
Are you reviewing every single picture you put up when advertising your company?
Are you reviewing the language that is used; Watching for terms like "young single professional" or "master bedroom"?
A growing number of law firms and fair housing advocacy firms are targeting marketing claims. Whether you handle your marketing in-house or you outsource, every individual involved needs to understand what they can and cannot do as well as best practices.
Criminal History Screening
Criminal history screening has also seen a recent uptick in complaints and lawsuits due to its complex nature. Here are some of the more prevalent concerns we have seen:
We use a third-party screening company; are we liable if they do not follow the law?
An applicant disclosed that they have engaged in illegal activities and may have been convicted of an offense. How do you proceed?
Just another problematic fair housing situation that you will be faced with at some point. In addition, every scenario will be different, and how you incorporate your policies and procedures will be too.
Sexual Harassment Prevention
Sexual harassment training is needed within the workplace, but it shouldn't end there. Housing management needs to remember that training is necessary when it comes to employee resident relations as well. What is your policy when it comes to the following:
Employees and residents being friends, attending social gatherings together.
Employees dating residents.
A maintenance employee needs access to a unit, but only a child is home.
To avoid a potential fair housing claim, every company needs to include additional sexual harassment training that provides clear policies regarding employee/resident relationships.
Emotional Support Animals
And now we reach number five and the holy grail of fair housing training. Emotional support animals. We all know that many have lost years of their lifespan and hairs off their heads dealing with this topic and all it encompasses. The number of requests and complaints has grown exponentially. Everyone has to deal with it, whether it's a landlord with one property or a portfolio of ten thousand units. Consider these top emotional support animal questions we have received:
What do you do if the applicant animal is over your weight limit?
Species restrictions?
What kind of certifications will you accept?
If you are unsure of the answers to these questions, you are already behind and are a massive target for complaints that can lead to lawsuits.
None of this is intuitive or easy, and that is precisely why this channel exists. We have posed many questions and scenarios, and you are probably wondering where the answers are. The first place to look is the links below. We had talked about each of these topics before and shared some insights and tips. Secondly, continue your training! We have seen the need for continued education and are currently working on advanced fair housing training courses. Be sure to sign up for our newsletter so we can let you know when they are ready!
Whatever you do, we encourage you and your company to get on the same page with these topics. Dive in deeper for your fair housing focus!
Happy Training!
You May Also Like: